Founding with StopFlow™
1998

In 1998, organic chemist Dian Y. Lee, PhD. founded AIM Research Company™ to advance the LC-ARC StopFlow™ technology, which he originally invented during his research position at DuPont. In 2001, AIM Research Company patented the the world's first LC-ARC™ (Liquid Chromatography – Accurate Radioisotope Counting) system, which used StopFlow™ Technology to increase sensitivity of radioactivity detection. US Patent No. US 6546786 B2
ARC XFlow™ System with DynamicFlow™ & StopFlow™
2000

After years of experience in radioactivity detection and R&D, Dr. Lee invented DynamicFlow™ technology (US Patent No. US7624626B2, WIPO: WO2007059363A3) to further improve detection sensitivity. Rather than stop the flow of LC, the flow of cocktail and/or LC can be regulated so that the overall sensitivity of the online radioactivity detection is improved. The ARC XFlow™ System combined DynamicFlow™ and StopFlow™ into a single instrument. XFlow and StopFlow were installed to improve an existing radioactivity flow detector's sensitivity.
v.ARC™ Online Radioisotope Detector for HPLC
2004
v.ARC Model 1 system was introduced to empower customers with a single detector with both DynamicFlow™ and StopFlow™ technologies with the best detection and modern electronic design. The first of its kind, the v.ARC Model 1 integrated two PMTs for coincident radioactivity detection together with DynamicFlow and/or StopFlow technologies for HPLC applications.

AIM Research Company introduced ARC Data System 1, the most advanced radio-LC data system which had total instrument control on LCs (Agilent 1100, Shimadzu, Waters Alliance 2695, and PerkinElmer Series 200) and other peripherals.

Building on the experiences of v.ARC Model 1, the Model 2 brought about new electronics and design to deliver better performance and capability.
LCJet™ Fraction Collector
2012
To meet customers' needs on accurate fraction collection for off-line sample processing such as counting with TopCount® for radioactivity, AIM Research Company invented the LCJet™ System – the world's fastest fraction collector with high capacity. The LCJet Model A opened the floodgates for high capacity workloads for state-of-the-art laboratories around the world.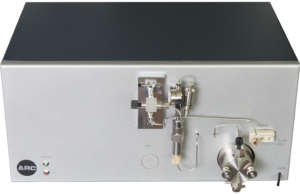 AIM Research Company brought about a groundbreaking architecture in the v.ARC Model 3 with enhanced performance in detection sensitivity and resolution. World-class research facilities around the globe rely on the v.ARC  Model 3 for advanced radioisotope detection analysis.
Building on customer wishes for even more streamlined workflows, the LCJet Model B brought about integrated drying capabilities. With optional automated drying integration, the LCJet along with LCJet Pro™ software eliminate intermediate steps that required user intervention, saving time and resources by enabling researchers to keep their attention on science rather than schedules.
The LCJet Model C improved on hardware design and components for accuracy and reliability, and it addressed user feedback to add compatibility with nonstandard plates. LCJet Pro software gained new capabilities to have simple teaching procedures for custom tray and plate designs, so that the LCJet can complement and streamline any research workflow.
New Detection Optimized Technology™ in v.ARC Model 3
2021
AIM Research Company introduced ground-breaking Detection Optimized Technology™ (DOT). Integrated with the v.ARC Model 3's advanced architecture, DOT enhances detection while rejecting background noise providing researchers detection capability down to 50 DPM 14C and 100 DPM 3H with < 1 CPM background.